CRX-VF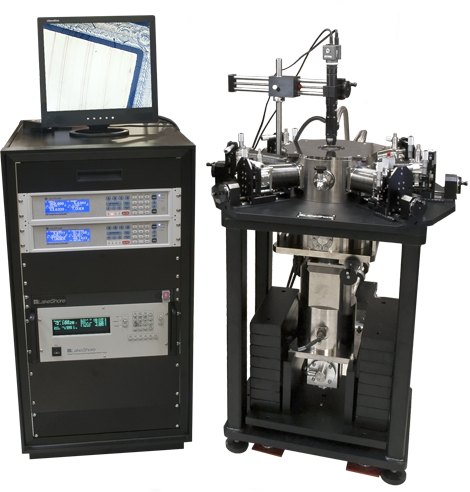 The Model CRX-VF is a cryogen-free, closed-cycle refrigerator probe station enhanced with a ±2.5 T vertical field superconducting magnet. It performs CV, IV, microwave, and electro-optical probing, plus out-of-plane vertical field superconducting magnetic measurements. Researchers can use the CRX-VF for performing Hall effect measurements and testing magneto-transport parameters. It is designed to enable true 90° wafer probing on wafers up to 51 mm (2 in) in diameter. The sample is maintained at elevated temperature during cool-down, reducing the potential for condensation, a critical requirement for measuring organic materials.
Using a self-contained closed cycle refrigerator (CCR), the CRX-VF will cool down to cryogenic temperatures unassisted, eliminating the need for monitoring by the researcher. It operates over a standard range of 10 K to 500 K. This station is the solution for those looking for the convenience of cryogen-free operation and the dependable measurement performance of a Lake Shore product. More information about the CRX-VF...
This station features:
Cryogen-free operation
Unsupervised cool down
Standard probing plus out-of-plane vertical field superconducting magnetic measurements
True 90° probing
Customizable up to 3 T with specialized probes
Customizable to make Hall measurements
THz probe arm option for precise on-wafer contact probing of millimeter wave devices at THz frequencies (75 GHz and up)

Please fill out our request form to let us know your system requirements.
A Lake Shore sales representative will get back to you in 24 to 48 business hours.
There are no products matching the selection.