Model 8425 DC HMS with Cryogenic Probe Station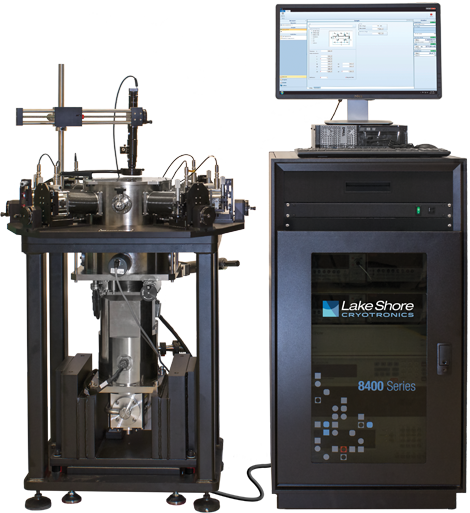 Advancing materials research
Featuring the latest in Lake Shore Hall measurement capabilities, the Model 8425 is ideal for a number of applied physics, electrical engineering, materials research, and product R&D applications. Measure electronic and magneto-transport properties of novel materials, including:
III-V semiconductors—InP, InSb, InAs, GaN, GaP, GaSb, AIN-based devices, high-electron mobility transistors (HEMTs), heterojunction bipolar transistors
II-VI semiconductors—CdS, CdSe, ZnS, ZnSe, ZnTe, HgCdTe
Elemental semiconductors—Ge, Si on insulator devices (SOI), SiC, doped diamond SiGe-based devices (HBTs and FETs)
High-temperature superconductors
Direct and derived measurements as a function of field and temperature
Hall voltage
IV curve measurements
Resistance
Magnetoresistance
Magnetotransport
Hall coefficient
Hall mobility
Anomalous Hall effect (AHE)
Carrier type/concentration/density
More information about the 8425...
The 8425 features:
A complete Hall effect measurement system using device probing under vacuum in a probe station
Supports a range of DC field Hall measurements—measure mobility on wafer-scale materials and structures as a function of temperature and field
DC fields to 2 T and resistances from 0.5 mΩ to 100 GΩ
Vary temperatures from 10 K to 400 K using closed-cycle refrigerator—no cryogen required
Includes intuitive 8400 Series software for easy system operation, data acquisition, and analysis
Supports exporting of data for multi-carrier analysis
3-year standard warranty

Please fill out our request form to let us know your system requirements.
A Lake Shore sales representative will get back to you in 24 to 48 business hours.
There are no products matching the selection.